TRAVELOGUE  »  Visiting the Ruins of Ancient Angkor
I have been fascinated by the Angkor temples since they were used as a backdrop for the Mortal Kombat movie as well as for Angela Jolie's Tomb Raider. When I found out that the temples were in Cambodia while researching this trip, they quickly became my most anticipated part of the entire eight months…and they did not disappoint!
---
Visiting Angkor Wat
Angkor Wat was the first stop on our whirlwind three day tour of the Angkor complex that consists of dozens of temple ruins scattered over more than two square miles. While it was smaller than I imagined (as I feel most famous monuments are), the place was absolutely amazing.
Filled with intricate carvings and stone wall reliefs telling stories, it was the five central towers that really make the site special. We must have spent three hours wandering the Angkor Wat grounds, though my access to the very top of the center tower was denied when I refused to bribe the guard $10 to let us up.
---
The Ancient City of Angkor
After visiting Angkor Wat, we spent the rest of the day in our hired tuk tuk driving around visiting as many temples as possible before watching the sunset, along with hundreds of other people, from atop the one hilltop temple in Angkor.
The next day we rented bicycles and spent nearly 12 hours biking 15+ miles through sunny and shaded paths in Angkor Thom and beyond. By far the highlight of the day was Bayon, a temple complex that has more than 200 carved stone faces.
---
Bantea Sri and the "Far Away" Temples
Finally, on our third day we once again hired a tuk tuk to take us to a Banteay Srei, which is nearly 30 kilometers from the rest of the Angkor complex but, for some reason, a part of it. Though we stopped at a few other temples and the Landmine Museum on the way out there, Banteay Srei was well worth the effort. Featuring some of the most beautiful stone carvings I have ever seen, the detail was beyond belief and no photo I took could ever do it justice.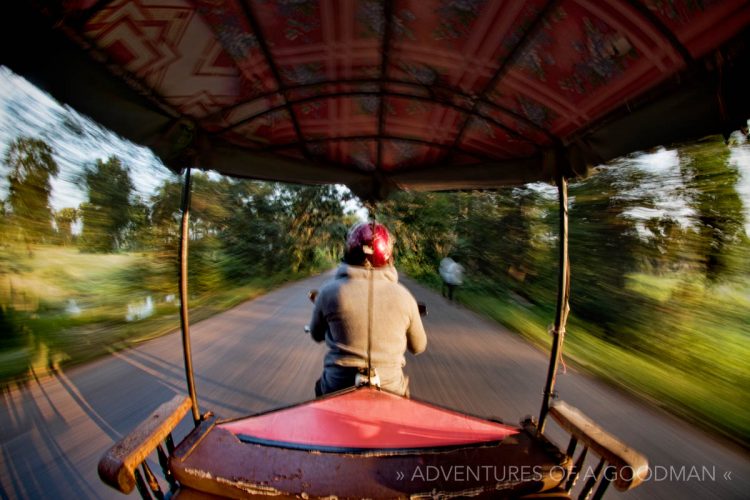 ---
Bombarded by Local Vendors in Angkor
One of the funniest parts of a day at the Angkor complex is the frequency at which visitors are approached to buy things from local vendors. Whether walking, biking or in the back of a tuk tuk, the most frequent words heard are:
"You want cold water? Pineapple? Book on Angkor? You want food? I give you very good price! Angkor tee shirt? You stop at my shop? Buy my flute? You want postcard…ten for a dollar? Ten for 75 cents? You buy now?"
It's amazing how many little stalls are set up in between all these ancient ruins and, sooner or later, we always gave in. Hey, a guy has to eat, drink and buy souvenirs right?!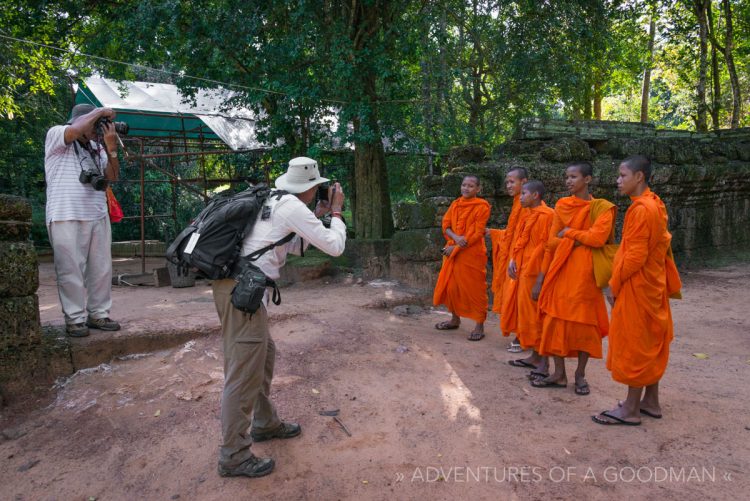 ---
Videos from Angkor, Cambodia
BUY A PRINT
All photos on this site are available as limited edition fine art photographic prints. Please get in touch for sizes and rates.