Alongside the Rhine River in Cologne, Germany, a pair of towering spires seem to stretch halfway to heaven
---
Kölner Dom — the Cologne Cathedral
Beneath them stands Kölner Dom: Northern Europe's largest Gothic Church. With a height of 515 feet, the Cologne Cathedral has the second-tallest spires and largest facade of any church in the world.
On an average day, more then 20,000 people climb to the top or wander in the shadows of its massive flying buttresses.
Before arriving in Germany, I had spent the previous four months living in Thailand surrounded by Buddhist temples.
Don't get me wrong, I love being around Wats, but it was a great feeling to be pointing my camera up at a church and some Western architecture.
No matter where I was in the Cologne, a view of Kölner Dom was never far away. Even on the other side of the Rhine River, where I presented my work at Photokina 2012, I had a clear view of the spires.
RANDOM FACT: I was surprised to learn that the Kölner Dom, and not Castle Neuschwanstein, is Germany's most visited landmark.
---
Sunday Mass at Kölner Dom
Inside of the Cologne Cathedral is a stunning gallery of arches, stained glass, statues, paintings, and pews. Or so my friend Christina tells me, since the one time I made it inside happened to be Sunday Mass and most of the Kölner Dom was roped off to visitors.
Sunday Mass proved to be a moving and beautiful experience, as I closed my eyes and listened to the ancient melodies echo around the cavernous church.
---
Trains and Bridges over the Rhine River in Cologne
In front of Kolner Dom, the Hohenzollern Bridge spans the Rhine river and connects to the main Cologne train station (Koln Hauptbahnhof).
There is no vehicular traffic other than trains and pedestrians can walk on either side to appreciate a completely different view of the city. It really was the perfect combination for me: bridges AND trains.
As Julie Andrews once said, "these are a few of my favorite things!"
---
Donnie's Sunset on the Rhine
Since leaving New York City for India back in March, my late Great Aunt Donnie has been along for the ride. She spent 91 years as a traveler and before she passed away last February, I told her I'd take her ashes with me on my next adventure.
So far, Donnie had taken a trip down the Ganges and Pai Rivers, rested under a tree in a Thai national park, and snuck into the Taj Mahal.
When I arrived in Cologne, Germany, I went to the banks of the Rhine River to send her on another ride.
I released most of her ashes directly into the Rhine, but placed a little pile on a rock and let the waves take her away. The whole time, this was her view.
Love you, Donnie!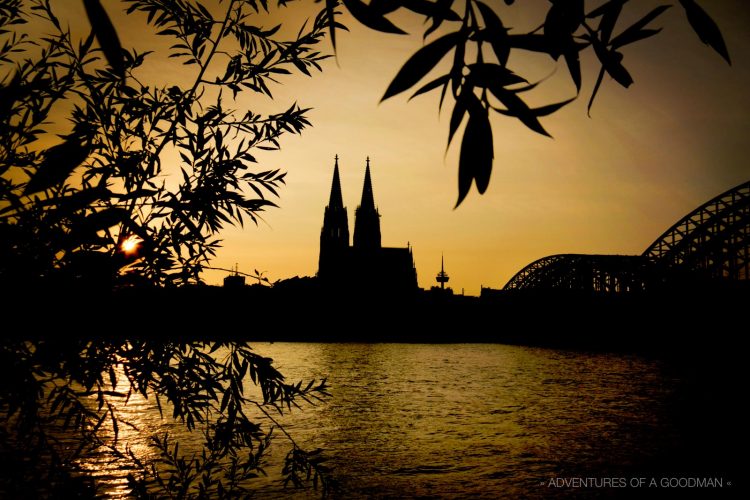 ---
Auf Wiederhören!
BUY A PRINT
All photos on this site are available as limited edition fine art photographic prints. Please get in touch for sizes and rates.