Seven Super Shots
The travel blog community likes to play games, such as HostelBookers' Seven Super Shots. In it, players are invited to look through their photo archives, find seven wonderful photos, write about them, and nominate five of their friends.
For my entry to Seven Super Shots, I have decided to exclusively use photographs from my current adventure, which began on March 19, 2012. Also, a big thanks to Chrystal of Chrystal-Clear for my long-awaited nomination 🙂
. . .
.
1. a photo that… Takes My Breath Away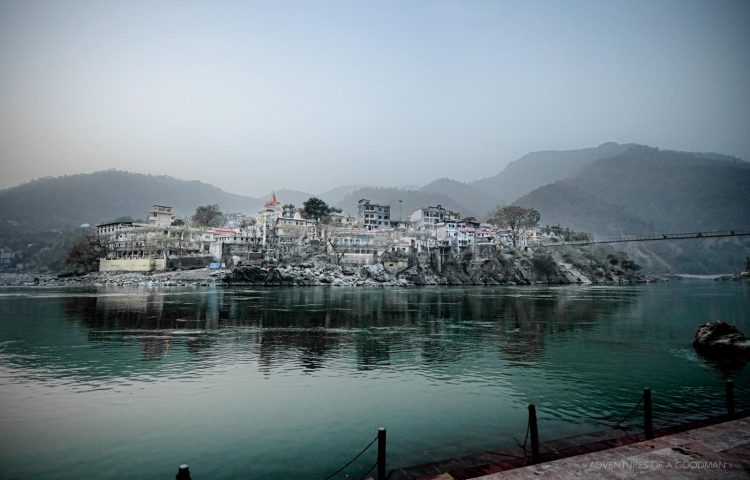 An Indian Skyline

Rishikesh, India

Nope, that's not an island. It's the town of Rishikesh jutting out over the Ganges River in India.
:: see more of my favorite photographs from Rishikesh ::
. . . . .
. . .
.
2. a photo that… Makes Me Laugh/Smile
Watering the Dirt so Mud Will Grow

Punjab Countryside, India

No matter how hard I think about it, I can't come up with a single reason for this man to be watering down this dirt field. Is he trying to make sure that people's feet get muddy? Simulating the rainy season? It makes no sense, but it sure does make me laugh!
:: I almost chose a photo of Buddha's Booty…see it here ::
. . . . .
. . .
.
3. a photo that… Makes Me Dream
I Have to Sleep on this Thing?

Shiva Resorts, Rishikesh, India

Yes, this was my pillow for nearly a week. Looking back on it, it's a miracle those dreams weren't nightmares every time I rested my head on its solid foam.
:: want to know what it's like living in a Rishikesh guesthouse? ::
. . . . .
. . .
.
4. a photo that… Makes Me Think
Won't Someone Please Stop?!

Sunday Walking Street, Chiang Mai, Thailand

What must it be like to sit there and watch thousands of people walk by all night long, hoping that one will stop and drop some change in your lap?
:: I'm living in Chiang Mai, so all my latest photos are sure to be on Facebook ::
. . . . .
. . .
.
5. a photo that… Makes My Mouth Water
Can I Eat Yet?

Golden Temple Free Kitchen, Amritsar, India

Every day, 60,000+ people are served a free, hot, and tasty plate of food in the communal kitchen outside Amritsar's Golden Temple. When I was there, it's a safe bet my mouth was watering as I patiently waited for the servers to drop my meal into the plate in front of me.
:: here are photos and videos from the Golden Temple's Free Kitchen ::
. . . . .
. . .
.
6. a photo that… Tells A Story
Saving His Jacket

Pai, Thailand

"It's just not worth it. We gotta get out of here," Carrie and I shouted through the growing heat, smoke and roar of the fire.

Christian and Carrie ran out with as much as they could grab. In the chaos, I don't think I managed to pick up a single thing. Christian, on the other hand, actually ran back inside to grab his favorite jacket. Sometimes it's just not worth it…"
:: read the whole story of my night as a Thai firefighter ::
. . . . .
. . .
.
7. a photo that… I'm Most Proud Of
(aka My National Geographic Shot)
Golden Sunrise

The Golden Temple, Amritsar, India

The last time my wife Carrie and I were in India, it was too cold to visit the Golden Temple. This time, the weather was right and nothing could stop us. On our second day in Amritsar, we arose at the crack of dawn and were rewarded with this sunrise…
. . . . . . . . . . . . . . . . . . . . . . . . . . . . . . . . . . . . . . . . . . . . . . . . . . . . .
Now, to pass the virtual Seven Super Shots baton… I nominate:
BUY A PRINT
All photos on this site are available as limited edition fine art photographic prints. Please get in touch for sizes and rates.