GUEST POST OVERVIEW: Man-o-man, do I love Paris in the Spring. That's why I asked my friend Aleix to write up a post about the City of Love.
Paris is one of Europe's focal points when it comes to entertainment, culture and art events. The French capital has plenty of things to offer this spring so here are some of them that will hopefully give you the final push to visit this amazing city.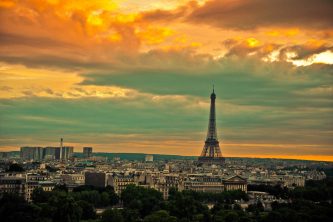 Winter is coming to an end and, of course, it's giving way to spring, a season that's many people's favorite because it's not too cold and not too hot, cities aren't yet full of tourists and it's a time of year that makes a nice change from the dark winter days. Of course, Paris is vibrant throughout spring, with plenty of activities and events that, along with all of its already well-known attractions, make a visit to the Paris apartments a must during this time of year.
The Salon du Livre is one of the most famous book fairs around the world. Held at the Porte de Versailles, it will take place from the 16th to the 19th of March. This event will be full of activities such as conferences, lectures and book signings by famous writers and editors as well as different events dedicated to certain literary trends. There will be a special event dedicated to Japanese literature, from Japanese fiction to poetry and even Manga comic books. Writers and artists from Japan will attend this event and will be signing issues of their works for all their fans.
Also for comic book lovers, there'll be the DC Comic Anthology, where the 75-year history of this comic book institution will be looked back upon. Another section will be the new 'Bit-Lit', vampire literature, which is so popular at the moment around the world. There will be exhibitions, photographs, animations and many other surprises related to this genre. And for all British fans out there, there'll be 'So British' an exhibition dedicated to the famous British TV show, Doctor Who. You can't miss this event dedicated to literature which will definitely have something that will interest you, no matter how obscure your tastes may be.
April sees the arrival of the Paris Marathon. Tens of thousands of runners will be competing in this 26 mile event that takes place every year in the French capital. Celebrating its 36th edition on April 15th, the race will start at the world famous Champs-Elysées and will end on Avenue Foch. You can run it and compete at the front or you can take it easy and do it at your rhythm, it's all about having fun and enjoy seeing a beautiful city while you run.
And in the month of May, Paris comes to a standstill to host one of the top international tennis tournaments in the world, Roland Garros. The best tennis players in the world will face each other on clay in one of the four Grand Slam tournaments in the tennis season. Rafael Nadal, Roger Federer, Novak Djokovic, Maria Sharapova, Caroline Wozniacki and Serena Williams, among others, will be the stars of this edition that will take place from the 28th of May until the 10th of June. Watch the best men's women's and doubles tennis in one of the most glamorous locations in the tennis world. Unmissable.
Enjoy the start of the warm weather by renting apartments in Paris and attending these events that make Paris one of the most interesting and vibrant cities to be in this spring.
PHOTO CREDITS:
Eiffel Tower
Metro Entrance
About the Author: Aleix Gwilliam is a 24 year old from Barcelona who looks English but thinks like a Catalan. He enjoys traveling, especially on old Czech trains, and trying to start conversations in Hungarian with people at Pecs station, even though his Hungarian is as good as his Bulgarian, in other words, not very good. He's a trier.
BUY A PRINT
All photos on this site are available as limited edition fine art photographic prints. Please get in touch for sizes and rates.