All About Bhagsu:
A 'Suburb' of McLeod Ganj, Dharamsala, India
OK, so technically I'm not a local like the Indians are; but, I did spend three weeks living in Bhagsu and getting to know it inside-and-out.
From waterfalls to Himalayas, shopping, and good eats, these are my recommendations for visiting the most relaxing and laid back town in Dharamsala.
---
Where in India is Bhagsu?
Bhagsu is a quiet little village located a short walk from the bustling downtown of McLeod Ganj.
Though Bhagsu is popular amongst Indian and Western tourists alike, there is a large separation between the two.
Most Indians tend to stay at one of the "luxury" hotels, which all are located along the main road into town. From there, they explore the Bhagsu Waterfall and some nearby local shops before heading down to McLeod Ganj and the Dalai Lama.
Meanwhile, Western backpackers usually head past the luxury hotels and up a narrow street on a steep hill. On either side, wall-to-wall guesthouses are flanked by an endless string of shops, restaurants, Internet cafes and stalls catering to every need.
Due to the incline, few vehicles make it up (maybe they need an India Driving Guide — a welcome relief from the honking down below.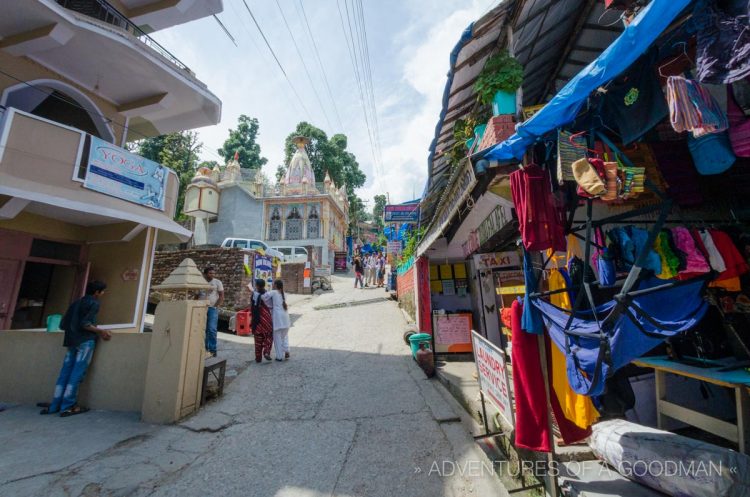 ---
When to Visit Bhagsu
The best time to visit Bhagsu is from March to September. The town is pretty-much shut down the rest of the year, as snow and freezing temperatures make it unsuitable for tourism.
---
What to Do in Bhagsu, McLeod Ganj
So other than sit back and relax, what is there to do in Bhagsu? Plenty! It just depends on how you want to spend your day:
. . . . . . .
Climb Up to the Bhagsu Waterfall
Bhagsu's main attraction is a somewhat-impressive waterfall, though a visit is more about the overall commercial experience than the actual falls.
Once you make it through the gauntlet of souvenir shops, eateries, and a giant swimming pool, the vista opens up to a valley covered in rocks, greenery, and prayer flags.
The riverbed below the waterfall is draped in swatches of red, as Monks use the stream to wash their robes.
Surrounding the plunge pool are cafes, snack shops, and hookah lounges.
Still, this skewed commerce to nature ratio doesn't dampen the mood of Indian visitors, who have a wonderful time jumping into the freezing water and warming up with a cold beer.
Finally, high above the waterfall, prayer flags and more stairs lead visitors to the Shiva Café.
A popular party spot at night, the café's laid-back atmosphere and remote location make it a haven for backpackers.
---
Go to Hell in the Bhagsu Shiva Temple
At first glance, the Shiva Temple is no different than any other Indian shrine: except for the large open-mouthed dog and snake sculptures against the walls.
Upon closer inspection, the mouths hide a pair of staircases that lead to a maze-like "cave" on the second floor.
Faux-rock walls lead devotees through a winding path with several stops at shrines and statues depicting the horrors of hell.
After safely escaping hell, you can choose to head back downstairs or up to the roof for a scenic view of Bhagsu and the empty lot behind the temple.
---
Explore the Mountains Above Town
Bhagsu, much like the rest of McLeod Ganj and Dharamsala, is located in a mountain range below the Himalayas.
Endless days can be spent hiking, climbing, wandering, exploring, resting, picnicking, and gazing out over the Indian horizon. Any jaunt is sure to include copious interactions with animals and wildlife, so be sure to bring your camera!
---
Popular Activities With Backpackers in Bhagsu
In addition to hiking, sightseeing, and other typical touristic activities, Bhagsu is set up to accommodate the longer-staying backpacker population of the world. You can…
. . . . . . .
Hang Out with Israelis and Eat Amazing Food
Lovingly referred to as Little Israel, there's something about the environment of Bhagsu that attracts a river's flow of Israeli backpackers.
These Israeli travelers are such an in integrated part of Bhagsu's population that most signs in town are written in English, Hindi, and Hebrew.
Walk down the street and it's a safe bet you will hear more Hebrew than any other language: especially if you stop into one of Bhagsu's numerous continental touristic restaurants.
It seems like every menu has an entire section dedicated to falafels, shipudim, hummus, Hello to the King, and other amazing Israeli foods. It's no wonder people spend all day sitting on the floor, eating and relaxing!
---
Learn or Practice Yoga
Bhagsu is home to the Himalayan Yoga Institute (technically in Dharamkot) as well as numerous yoga centers.
For those interested in flexing, stretching, and grounding themselves in this ancient art, you can't beat doing it in cool weather while gathering energy from the nearby mountains.
---
Learn to Make Your Own Jewelry
Up and down the main street in Bhagsu, daily classes offer travelers a chance to learn the art of making jewelry with gems, crystal, silver, and other metals.
Although the instructors often wind up doing most of the metallurgy work for you, students still learn a lot and leave with a collection of shiny new things. Plus, it's dirt cheap!
---
Attend a Spiritual Workshop
From meditation to reiki, Buddhism, sound healing, Five Rhythms, and beyond, if discovering spirituality is what you're after, Bhagsu is a great place to be. All over town, signs are posted daily with new activities to expand your mind: just keep your eyes and soul open.
---
Volunteer
There's no feeling better than that of helping someone else. In Bhagsu, there are opportunities everywhere to make a difference. Much like the spiritual workshops, just look for the signs or notice boards around town and give back while you travel.
---
Shop Till You Drop
The main road in Bhagsu is literally wall-to-wall commerce. If you ain't buyin', you ain't tryin'.
From clothes to jewelry, souvenirs, idols, incense, shoes, watches, paraphernalia, stickers, food, tours, activities and experiences, don't leave your guesthouse without some rupees.
---
What else is there to do in Bhagsu? LOTS!
Have you been to Bhagsu?
What were your favorite experiences or activities?
BUY A PRINT
All photos on this site are available as limited edition fine art photographic prints. Please get in touch for sizes and rates.